eyeshadow palettes i own
come with me on a lil tour of most of my eyeshadow palettes! in general, i love color, texture, and quality in a palette. i prefer a range of brights over neutrals, i prefer a range of textures over completely matte, and i only buy from brands with smooth buttery pigmented blendable formulas. before i really got into makeup, i thought makeup was just eyeshadow. then i learned it is foundation and blush etc. eyeshadow rules above all types of makeup for me. most people have drawers of lip colors, i have stacks of palettes, and here are 38 of them. i will update this page as i acquire new ones, and i will probably re-photogrph some in the future. but here's what i have for now, in order by mass (non-prestige) first then prestige, then in order by size: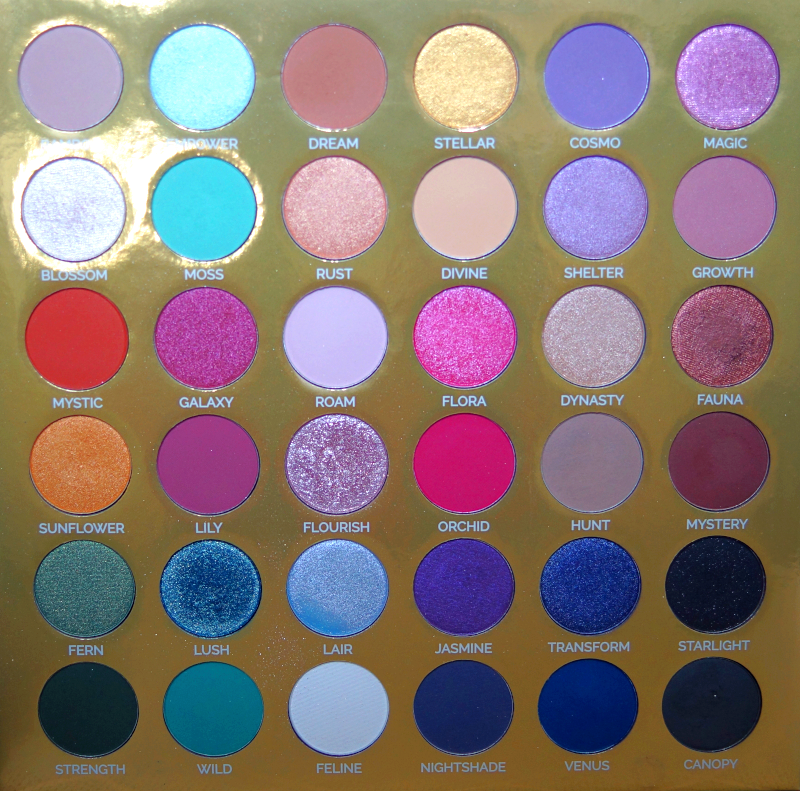 doja cat x bh cosmetics
starting off strong, this is doja cat's collab palette with bh cosmetics. i love the bright cools and glittery shades. you could do something space-y, or dreamy, or even bedroom-y with this palette. my faves are cosmo, magic, moss, flourish, lush, and canopy. it's hard to see here but canopy is a dark matte grey. you could do a wash of canopy and blend out with hunt to have a smokey, tired look which i do like to do. i usually take cosmo and layer it upon itself until it pops like it does in the pan. it's the perfect purple eyeshadow that i get compliments on.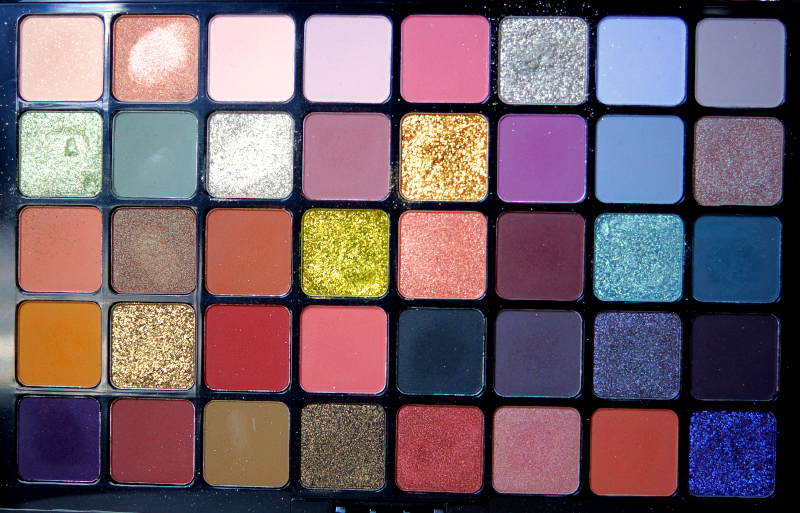 swear by it by nyx
this palette is one of nyx's large palettes. i believe this is their best one. the previous ones lacked variance in textures and pigmentation. nyx eyeshadows can range from bad to really good. i think this palette is pretty good, some of the colors are a little too weird even for me and i don't gravitate towards a lot of them, but i enjoy having this in my palette to look at, as it does have a clear plastic "lid". standout shades are the sparkly cream at the very top left, the green silver 6th column top row, the one i calll "grogu" green first column second row, and the bright non gold green standing out fourth column third row. i like to make muddy smudgy sparkly looks with this, by blending a few of the weird light mattes onto my lid and crease, and taking a shimmer on my finger and messily blending it over everything.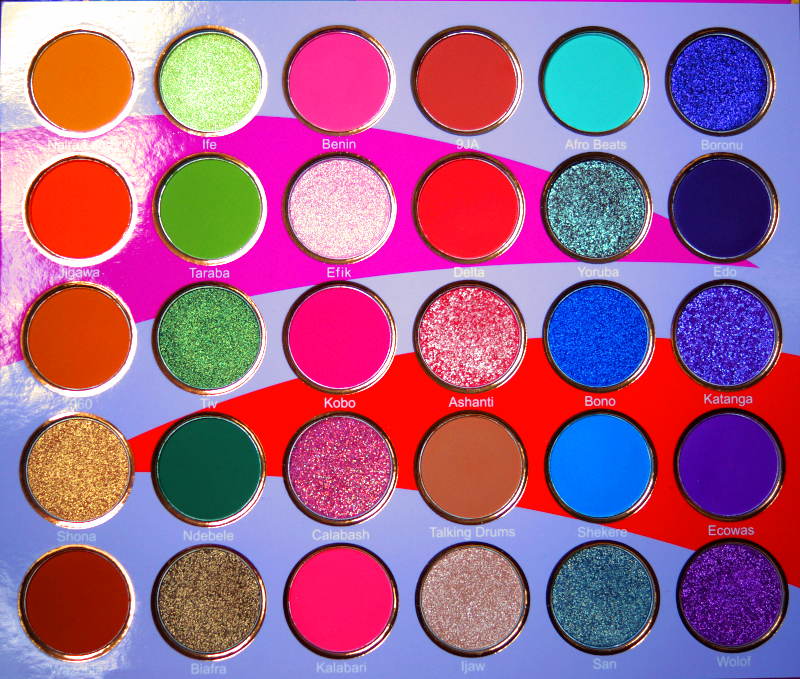 culture by juvia's place
i bought this recently and i am so obsessed!! i wore the last two shades in the sixth, purple column. ecowas in the crease and on the lid, and wolof on the lid. i used a little bit of eyeshadow glitter primer to help the glittery eyeshadow last longer. there are a few suspended glitters in this palette, which i know a lot of people don't like because of the potential of mold growing in the suspension. i don't mind tho haha. i haven't played with this palette enough to have stand out shades to list, but i am even lusting over the metallic neutrals as i type this.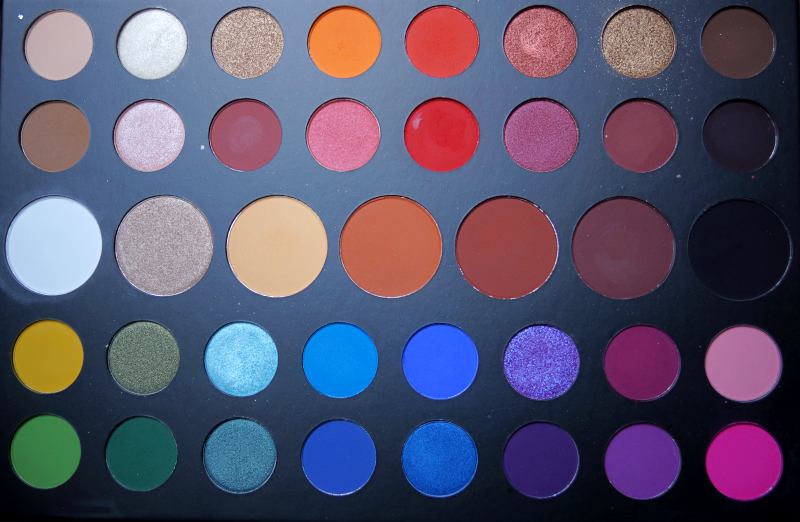 james charles by morphe
i bought this palette before he was cancelled lmao. i am thinking about de-panning a couple shades and throwing it out. there are only a few stand outs, the second color in the first row called ring light, the sixth color in the fourth row called brother, and the white and black shades are surprisingly pigmented. it's nice to have a "rainbow" palette in your collection but i haven't found one that is complete (all typical rainbow shades, red through purple) and pigmented. i have my eye on tokyo by bh, tho. i have had this palette for a while now (bought it around the time it came out) and have barely dipped into it, but i wanna show it on this page because it's the only complete rainbow palette i have and it rounds out my collection in that way alone.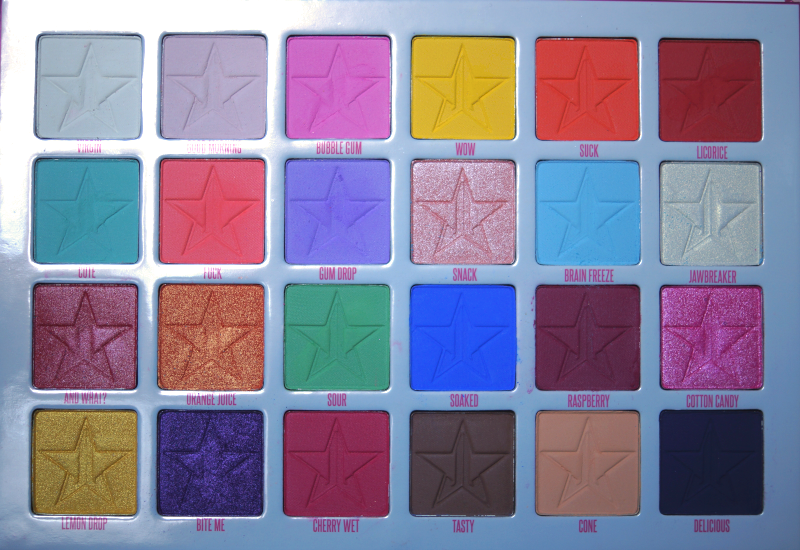 i won't give him the seo
OK if you thought james was controversial, have you met [unintelligble noises]? lol i refuse to put his name on my website but if you know makeup even a little but, you know the guy. i bought this palette second-hand, barely used. my money didn't go directly into his pocket, but ya know. i bought this for that bright blue called soaked in the third row, fourth column. i have used some of the other shades, like the light pastel mattes, but it's the blue that i open this palette for. i wore cotton candy once and felt like a clown. the shade jawbreaker stands out to me as well, i love a warm icy white.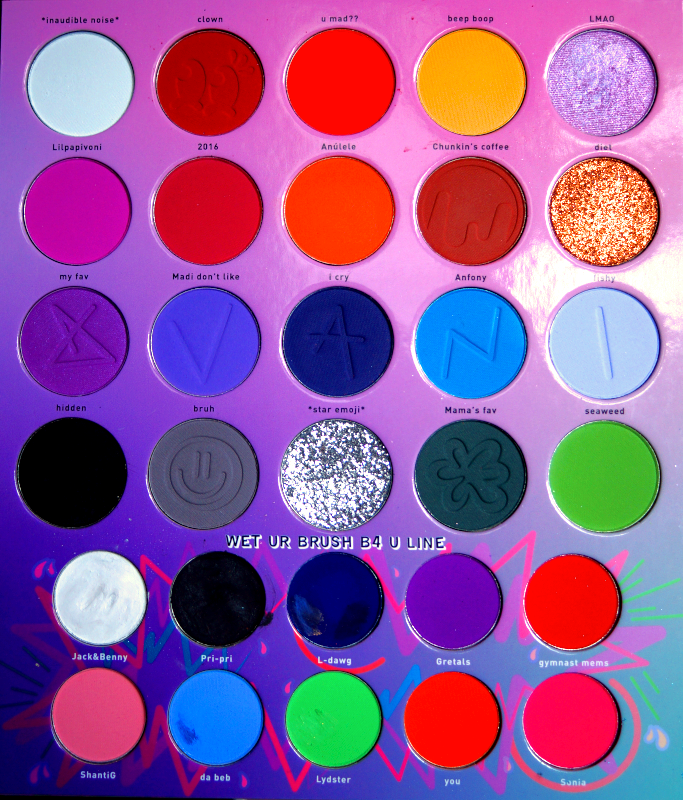 avani gregg for the bebs by morphe
if the purple in this palette were darker, this would be my complete rainbow palette. she killed it with this color selection. i love the dark-ish red called clown first row second column, the sparkly lilac called lmao first row last column, and the perfect middle ground grey called bruh, fourth row second column. and the best part of this palette are the cake liners!! you literally just use water to activate them and they become waterproof eyeliners. i have used the black and white shades a lot for graphic looks. unfortunately lydster isn't as bright as it is in the pan when wet, tho. you could do a pretty good rainbow eyeliner look with the wet liners alone, if you don't mind not having a yellow. i have this in my collection simply because color!! and the sprinkle of texture in the glitters/shimmers calls my name.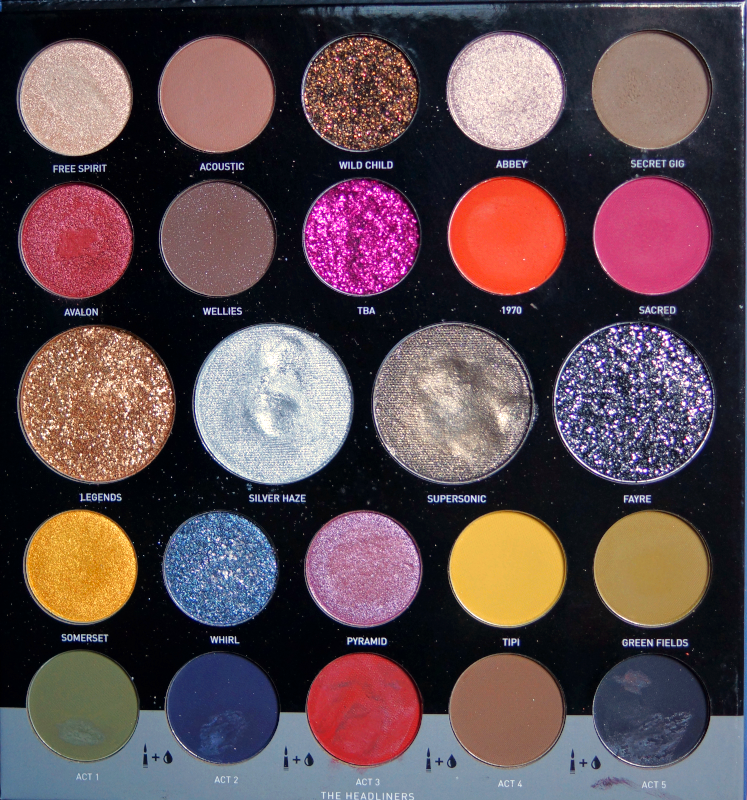 main event by morphe
this is another morphe collab (i have a handful) by mmmmitchell and daisy maskell. i have no idea who those homies are but they did well on this palette lmao. even tho if i were to glance at this and look away and see mostly neutrals, the more i stare at it, the more i love it. the twinkle of free spirit first row first column, the depth of wild shild third column, the vibe of 1970 second row fourth column... AND it has wet liners as well. oh and the two middle larger pans are squishy for some reason. some morphe palettes have squishy shades and i don't know why but that's fun. as you can see i have squished mine quite a bit haha. you could use this palette to do an over the top new year's look, using any matte in the crease and any glitter on the lid, almost all combos would be stunning. i think i will try secret gig and somerset next time i open this palette up.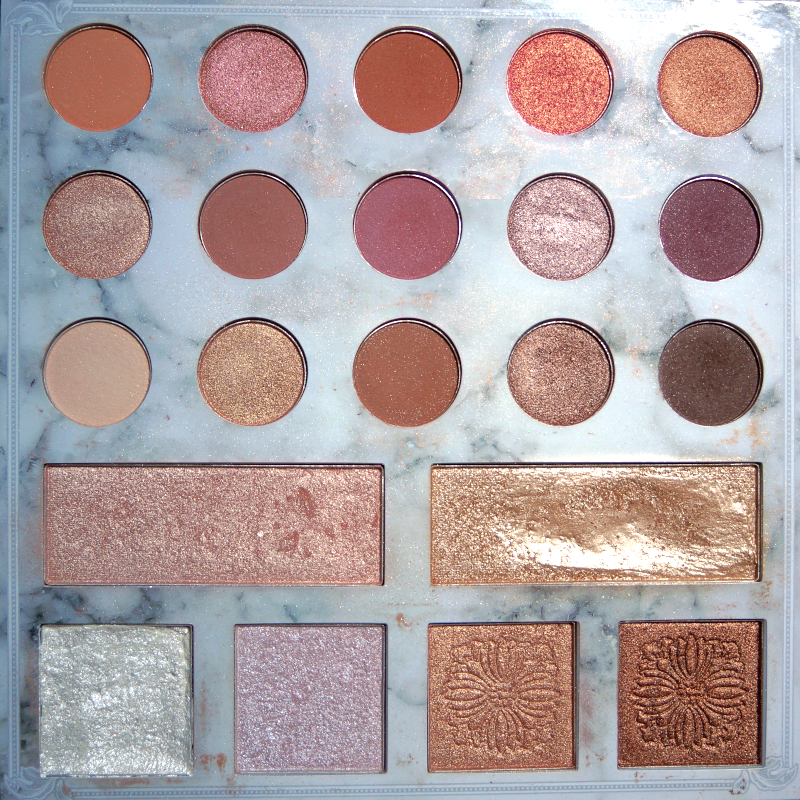 carli bybel by bh cosmetics
this is the second larger version of her palette with bh, which i also owned but got rid of. i rarely ever open this any more but i love the highlighters as you can tell. the large golden one is so flashy and reminiscent of 2014 youtube makeup. i used it until i discovered cream highlighters that look more natural. the white highlighter is the perfect snowy, white pop of highlight that i use occasionally on my inner corner. no matter what is in style or trendy for makeup, i like to highlight my inner corners with a bright white. i think a lot of people do too. this palette has all of the original shades from the original, and in the original i used the redish browns more than anything. especially with purple eyeshadow, it gives the most beautiful fading bruise color that i like.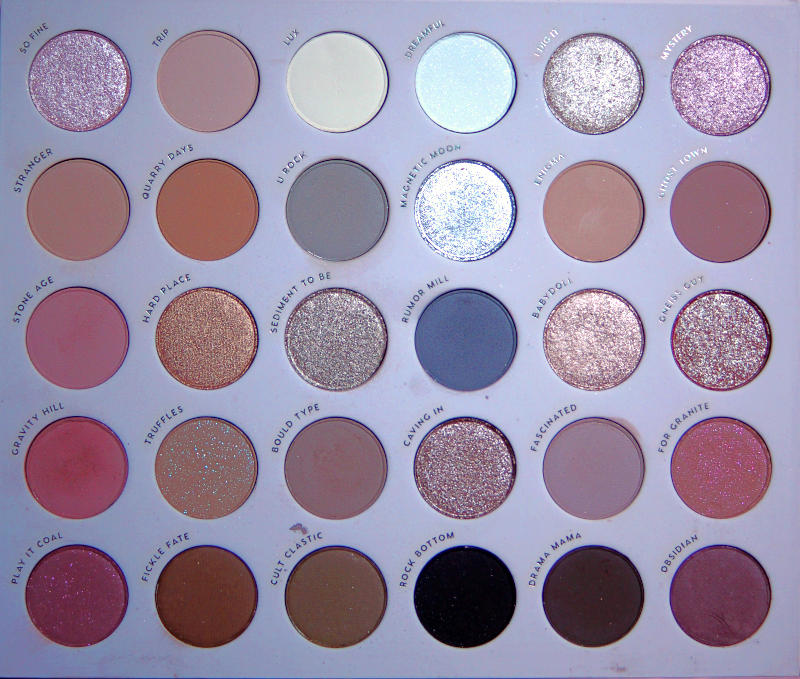 stone cold fox by colourpop
another more neutral palette for me, i love cool tones. and the range of hues is what sold me. i debated on this palette for a long while but i'm ultimately glad i grabbed it. i usually despise sequin eyeshadows (matte eyeshadows that basically have loose glitter in them) because the glitter will be all over your cheek by the end of the day, but the ones in here work well with an eyeshadow glitter primer really well and i have managed to make them stick. the blueish glitter in the shade truffles captiviates me. i like to do a wash of color of just that shade over my lid and crease, and then a second layer with glitter primer and using my finger to pick the eyeshadow and glitter up and place it on top. stand out shades for me are u rock second row third column, magnet moon third row fourth column, stone age third row first column, and rock bottom last row fourth column.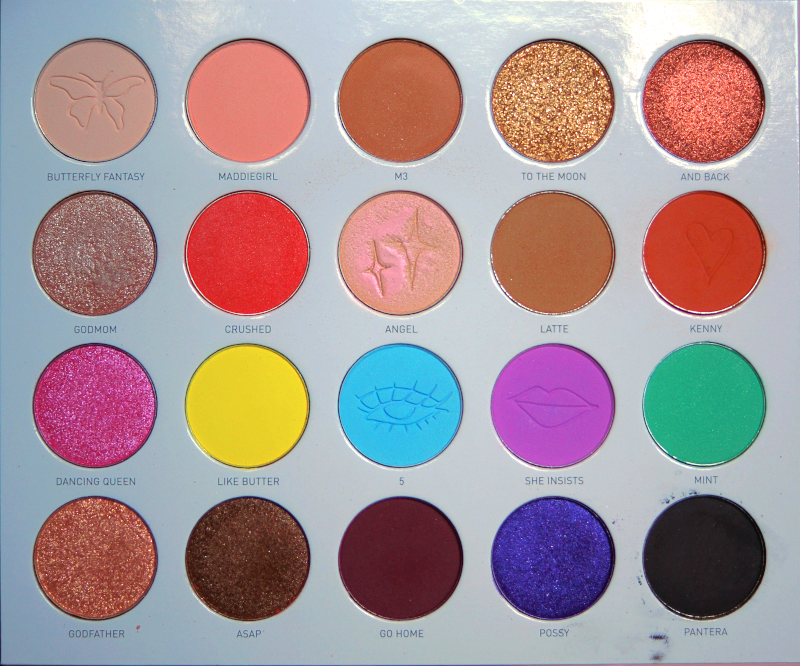 maddie ziegler by morphe
another collab with morphe lol they just usually have a lot of colors i suppose. i bought this originally because i was looking to replace a sparkly pink eyeshadow i had to throw out, and this palette had one and other pretty colors. but now i don't even like wearing sparkly pink eyeshadow any more haha. i am glad i bought it tho, i love the shade angel second row middle shade, the blue shade called 5 third row middle shade, butterfly fantasy top left, and kenny second row last shade. i have used this palette quite a bit but the pans don't show much use which is interesting. disappointing shades in here would be godmom, it doesn't work as well on the eyes as it looks in the pan or even finger swatched, and the shade asap turns out really dark and not warm and brown like it seems in the pan. i wore the shade mint i believe just once but remember getting lots of compliments.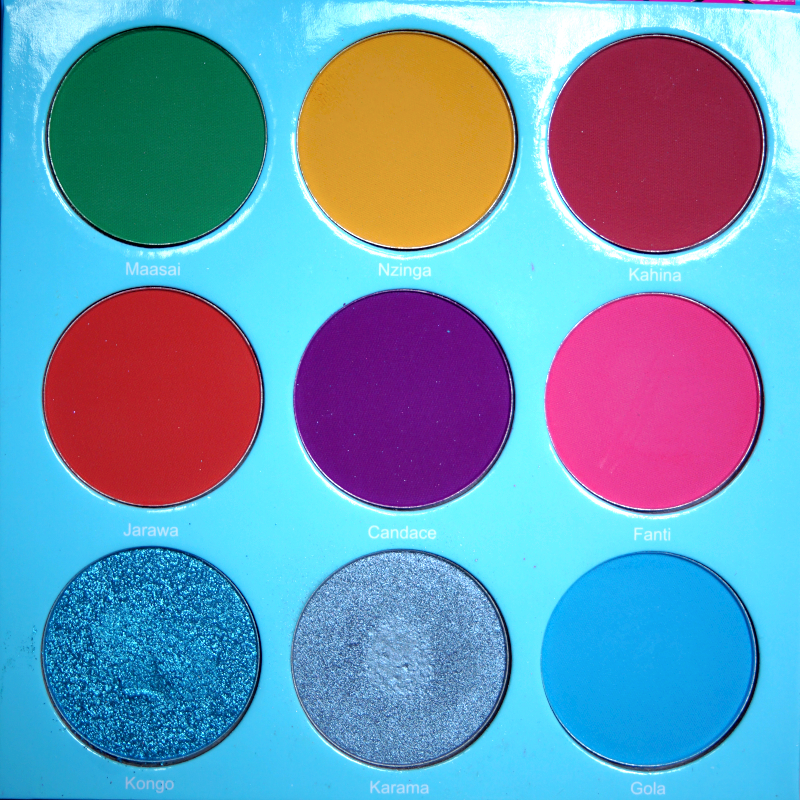 warrior II by juvia's place
a beautiful colorful palette by juvia's place, i bought this because my friend recommended it. she's a hairdresser now with her own salon, and if you can believe it, her hair has been every shade in this palette and that's why she bought it; to match her hair. she always looks so put together and coordinated with her hair matching her eyeshadow so i had to buy it. i don't see her often because we don't work retail together any more, but it reminds me of her when i open it. she's the one i trusted to dye my hair yellow, then give me a mullet, and then ultimately shave my head. every color in here a banger. you barely have to tap your brush in for any pigment at all, they blend well, and are huge pans so i will probably die with this palette still in my collection.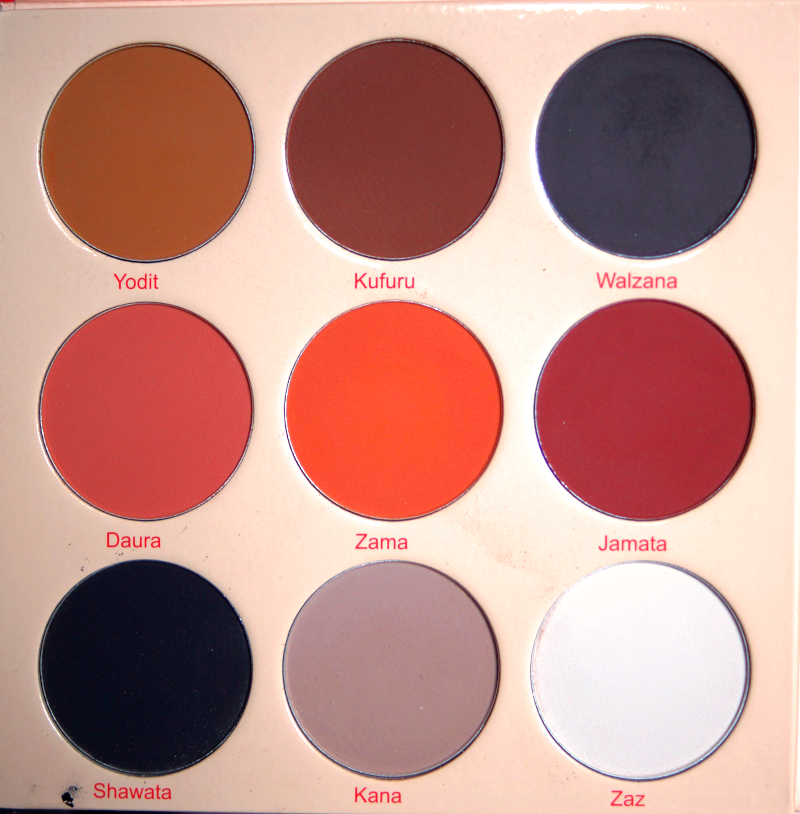 warrior III by juvia's place
i bought this palette at the same time as the last one because of a bogo sale lol. i use this palette a lot. it's crazy you can't tell in the pohots but i use this almost every time i do any type of makeup, natural and colorful. kana is my perfect taupe. i use it in my crease as a transition shade, i use it all over the lid as a natural "sleepy" look, i use it with a medium fluffy brush in the hollows of my cheeks for a little contour. i use daura on my bottom lash line again for the sleepy look lol i might do a tutorial on what i mean by that. jamata is a wonderful grungy red, walzana is the definition of a smokey grey. if i could eat this palette like a cookie, i would do so in one bite.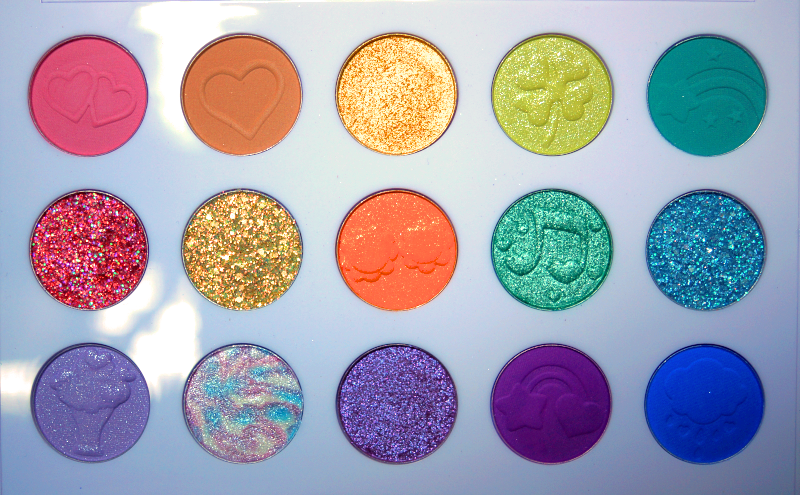 care bears caring counts by wet n wild
any makeup brand that wants to know the perfect mix of textures for a palette needs to study this one. perfect amount of shimmers, sequins, mattes, glitters. a genius came up with this. i want to take my hand over it and get covered in colors and glitter. i havent used this one a lot because... well it's a palette with only one neutral shade lmao. every shade in here stands out. this is one of those palettes i sit and swatch for fun without putting it on. i don't even care for the care bears. but they absolutely killed it with this palette. writing this is making me want to use it!! i love the orange shade (very middle) because it's orange with yellow glitter. and the purple has silver glitter, which is perfect for me. and the metallic yellow shines like the sun.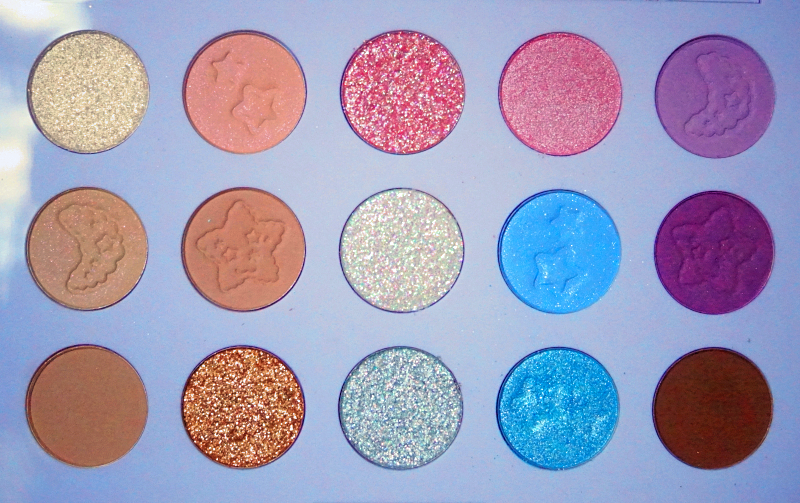 little twin stars oh my star by wet n wild
low key an obligatory fandom purchase, i love sanrio, high key bought it because i love pastels and purples and blues and glitter. this is not as amazing of a well rounded palette as the care bears one, but that's ok i love it for what it is. the glitters in here are soo pretty, i get compliments every time. they shift pink and blue and shine like stars. i also love the pink sequin shade, first row second column, and the blue sequin, second row fourth column. i also bought the makeup bag from this collection. i feel like the cutest sanrio bitch on the planet when i wear this palette. i havent used it in a minute but i do remember not loving the purples, sadly.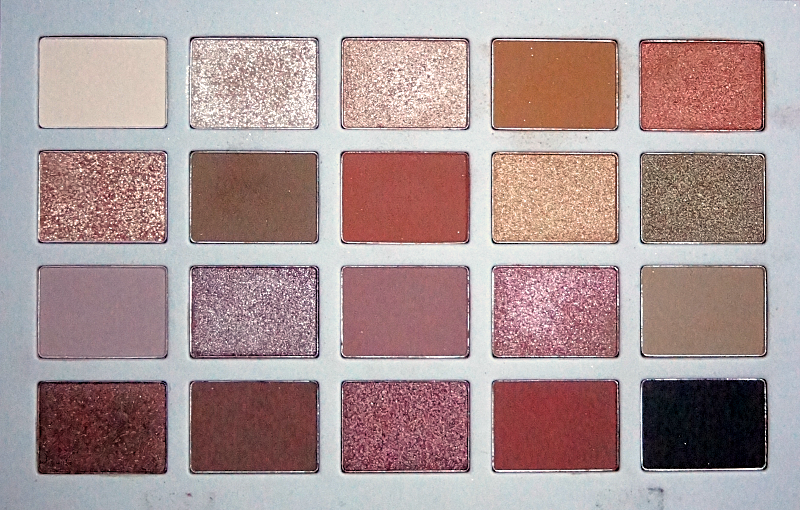 madison beer by morphe
an irresistable collection of mattes and metallics!! another neutral palette i keep around because the colors are just outstanding and have range. you can wear this traditionally, matte in the crease, metallic on the lid; or wear any one shade as a wash of color, even the metallics, because they have such depth to them. they shine and contour. i debated on this palette for so long, that it went on sale for discontinuation, which is when i finally bought it. i remember wearing this palette soon after it was gone from shelves, and multiple people asking me what eyeshadow i was wearing, and it was this one. i wish it had a lighter warm matte brown.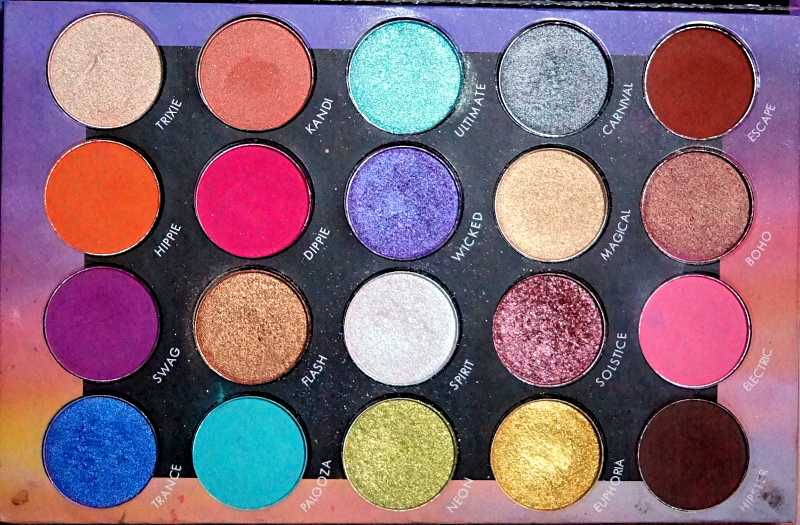 weekend festival by bh cosmetics
a coworker at the makeup store i used to work at pointed at this palette and told me it looked like something i would buy so i bought it, and i am very glad i did. every shade in here is perfection. the green shade called neon, last row middle column, to this day is my brightest green that people will ask about when i wear it. hippie is the perfect orange, not to red or yellow. trance is a wonderful blue, no black or grey undertones so it shows up on my eye how it looks in the palette. eclectic fills a spot in my heart, it's the perfect light pink that i like to pair with a taupe eyeshadow in the crease to make it really pop. yeah i love this palette.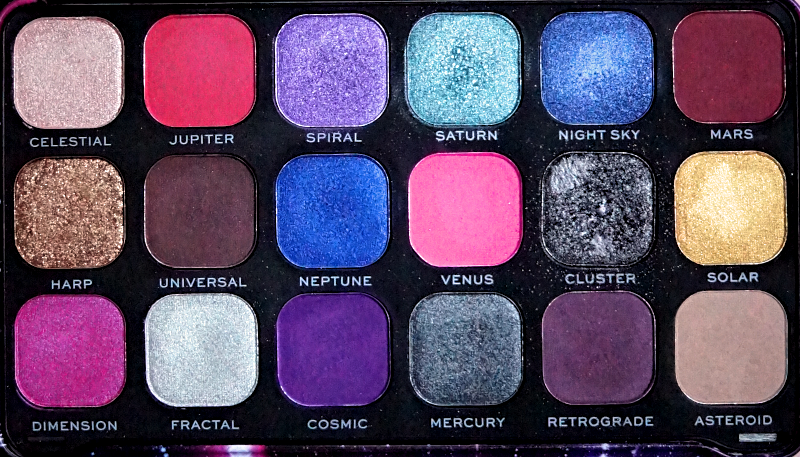 constellation by m.u.r.
i bought this for the metallic shade cluster. it's a weird one. it is... flaky? so it glitters -and- shines. it's very nice over a black smudgy eyeliner. the rest of the palette is a bonus to that one eyeshadow lol. the other stand outs are the sparkly purple called spiral, the chunky metallic called harp as it is similar to cluster, and the the grungy purple retrograde surprised me as a really nice 90's purple eyeshadow. i don't open this palette a lot, but it reminds me of going to the bar because i like to wear black sparkly eye looks when i drink in public apparently.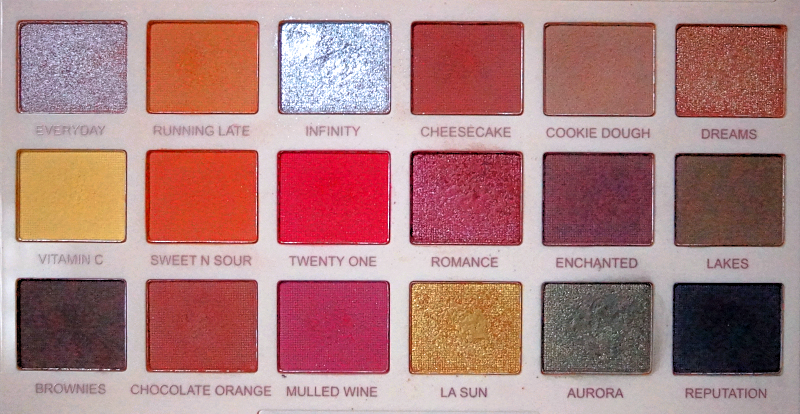 soph x revolution
i saw a picture on instagram i think of someone using this palette and she looked so pretty, so contoured, so warm. i wanted to replicate her look exactly so i bought it lol. i will buy eyeshadow palettes on a whim. it's my toxic trait i suppose. she used cookie dough and running late, and they did not disappoint. i also like to use infinity, it was my shiniest silver metallic before i bought a colourpop palette with a shinier one. twenty one isn't very red sadly but i do use it for red eye looks because i can build up the pigment slowly and controlled, rather than accidentally going heavy handed. i used aurora for my makeup at ren faire one year and felt so pretty. the other shades i don't use much.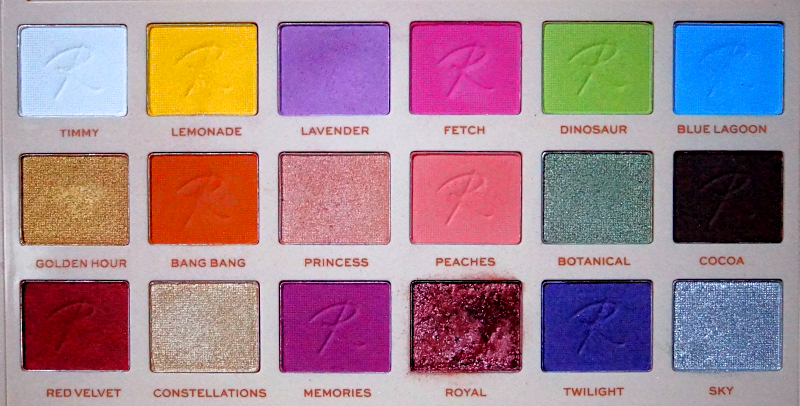 roxi x revolution
you already know i bought this for the pastel brights. i love the shade lavender so so so much. blue lagoon is literally as blue as that lagoon. royal is one of the best dark red pink metallics in my collection, it's not too golden and it has wonderful depth. i don't use the other shades as much but just having those few available to me is worth keeping the entire palette. i have heard and read many reviews that the pastels aren't pigmented. i understand what they are saying, but i see that as an advantage, as i wrote before, building pigment slowly gives you control over your eyeshadow, so it's not halfway down your cheek and so pigmented that it stains your skin.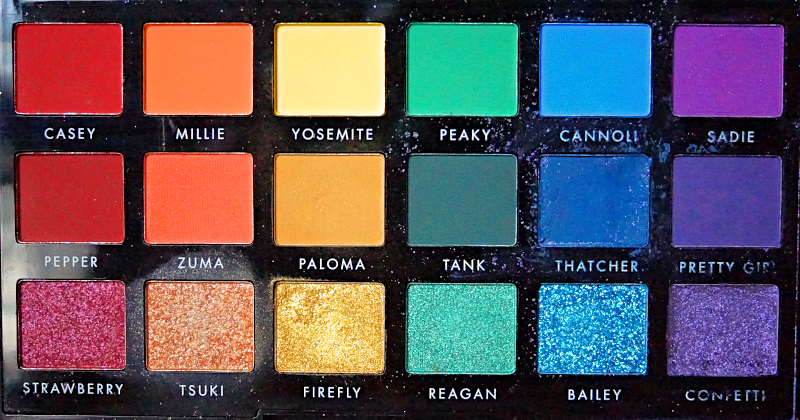 jkissa to the rescue by elf
"is this not your complete rainbow palette you have been talking about??" you're wondering. yes and no. yes it is a complete matte rainbow palette that is leagues better than the morphe one, but the eyeshadows are so stiff. we are nearing perfection with this one, she truly popped off, but they aren't as soft and blendable as i want them to be. it's like 90 percent there tho. the shade thatcher is the stand out shade in this palette easily. it's a blue with not a single hint of black or grey undertones, which is like impossible to find. second would be paloma, i wore this shade a lot last fall. and firefly is the perfect name for the bright starry yellow that it is. also this palette came with stickers and i let my daughter decorate it so that's fun.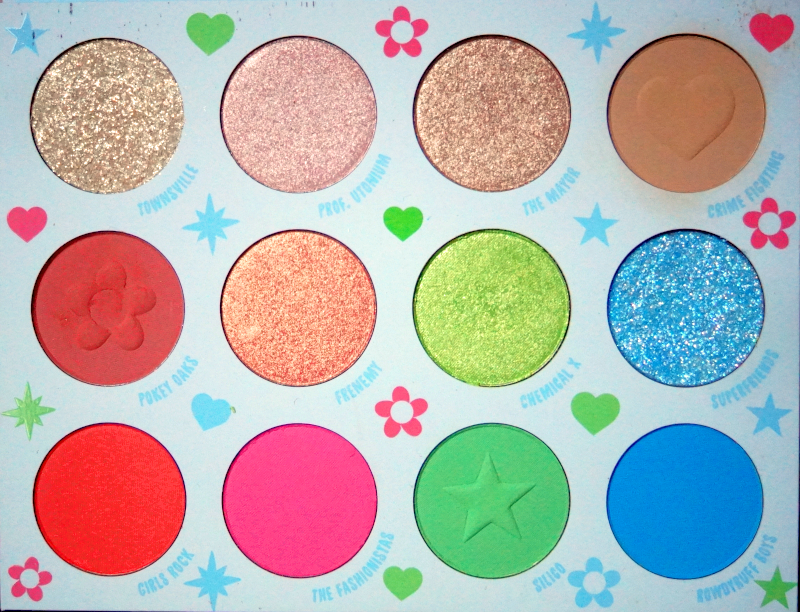 powerpuff girls by colourpopn
another obligatory fandom purchase? yes by far. i have all of these shades already in other palettes. this is a perfectly fine palette with really good eyeshadows. i bought this mostly for the fact it was powerpuff girls. i'm a sucker i'm sorry. i am not immune to consumerism. do i use this palette? hardly. do i love it so very very much, and will cherish it until the end of time? more so than my husband even, yes. the shade crime fighting is a good shade for bronzer.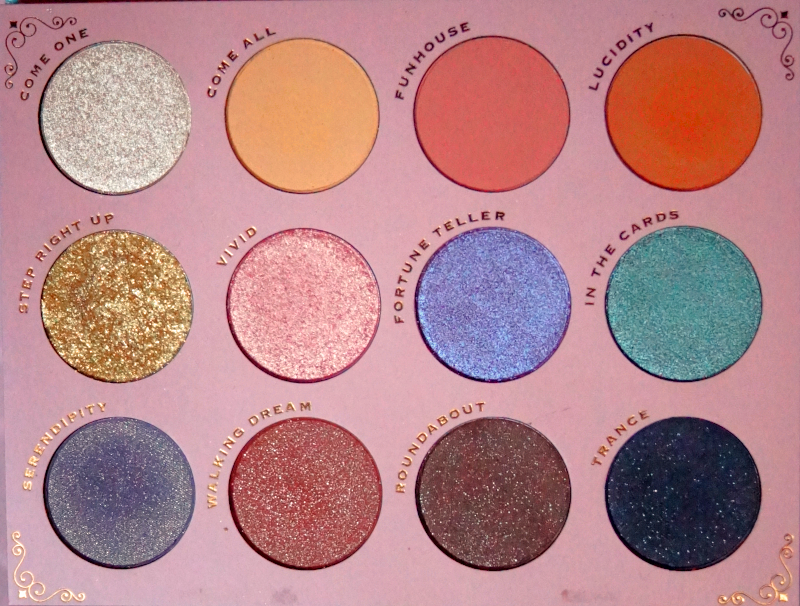 ticket to dreamland by colourpop
i bought this palette because my coworkers convinced me too, also because i wanted to feel like a mischievous fairy who went rogue and lives in an abandonded theme park. i havent used this palette enough. i want to play around more with the shade serendipity, it's so unique. the shade vivid could also be fun, it looks like an eyeshadow mary who had a little lamb would wear if she were older and wore eyeshadow. this is a good mix of whimsical shades.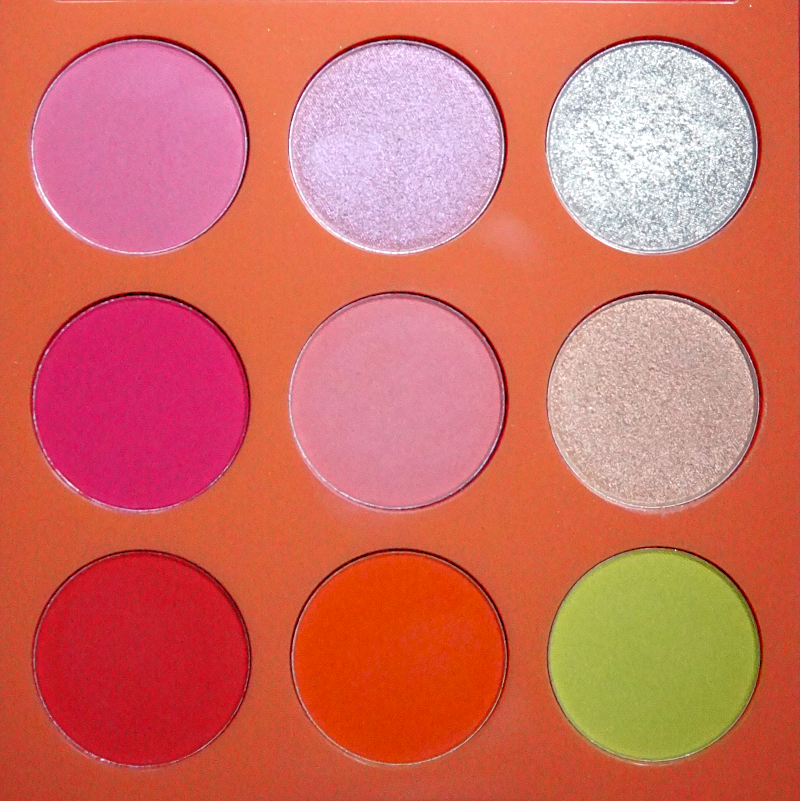 9h by morphe
i bought this because it was around valentine's day and it felt appropriate, i also bought one for my hairdresser friend since we were talking about it as i was getting my hair done. i don't reach for it often, but i do like having it. the green is nice and pigmented, the pinks blend so well, and the silver in the top right is distinct in a way i cant describe.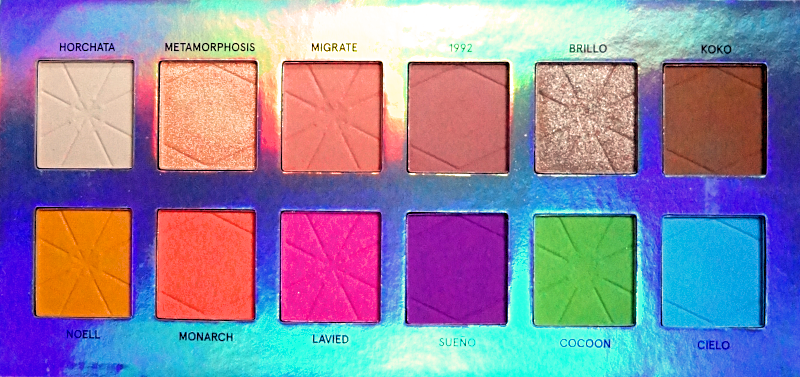 la vied un prince by bh cosmetics
i had my eye on this palette the minute they posted a teaser for it on instagram. i don't know who the guy who collab'd with bh to make this palette is, but he has an eye for color. i bought this for the brights of course, but learned to love the neutrals. metamorphosis is a shift peachy shimmer, 1992 is a natural redish shade that's great for eye contour, and brillo is exactly as named. cielo is one of the lightest but brightest blue shades i own that is still pigmented. usually light blues don't give off much pigment, but cielo does, i reach for it nearly every time i do a light matte blue eye.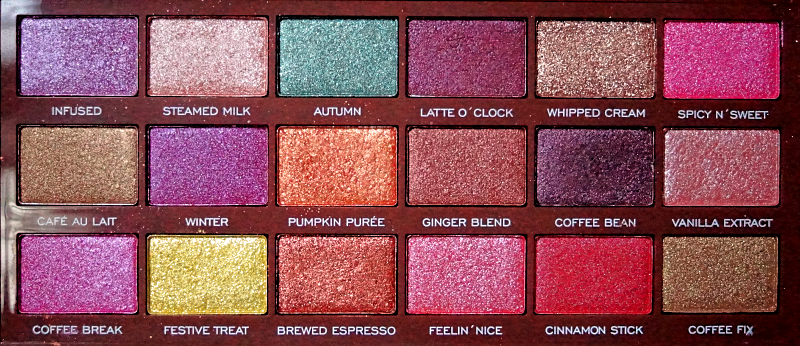 tasty pumpkin spice latte by m.u.r.
ok another palette coworkers convinced me to buy haha but i really enjoy this palette. whe i want something overly sparkly and warm, i go for this palette. i know the theme is pumpkin spice but i feel like a princess in these shades. and they're not all just regular shimmers and glitters, a lot of them have a surprising amount of depth and shift. stand outs for me are coffee bean, festive treat, and pumpkin puree.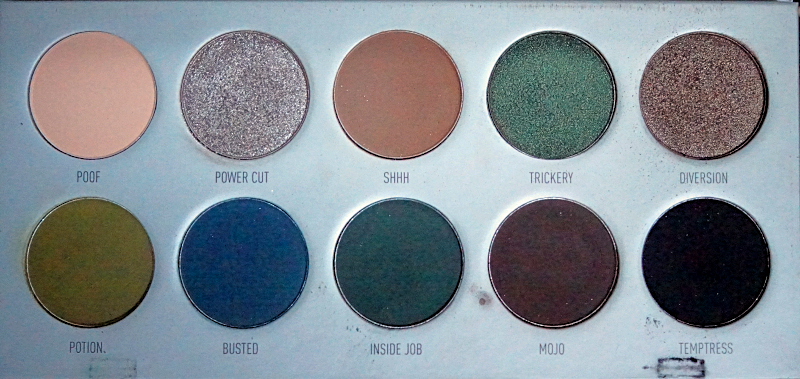 jacelyn hill dark magic by morphe
this was part of the small collection of four palettes consisting of shades that didn't make it into her larger palette with morphe. i bought this one because i thought it was the ugly duckling of the bunch lol. i have used this several times but don't reach for it much any more, but i do like the have it in my collection. potion is a gross little green that i really like. power cut is a cool silver shimmer that you already know i love. i might need to re-photograph this one. either way, this palette is great for 90s grunge looks.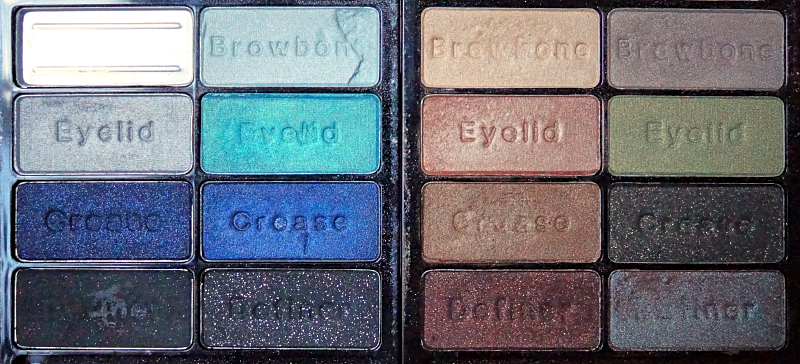 blue had me at hello & comfort zone by wet n wild
i can't seem to get rid of these. i have had the blue one for a decade now, i bought it in high school. i do not use these palettes but i love the colors and textures, especially for palettes that were available so accessibly, in cvs and walgreens, even the dollar store. wet n wild has a new version of comfort zone but not blue had me at hello, i might buy it someday and compare.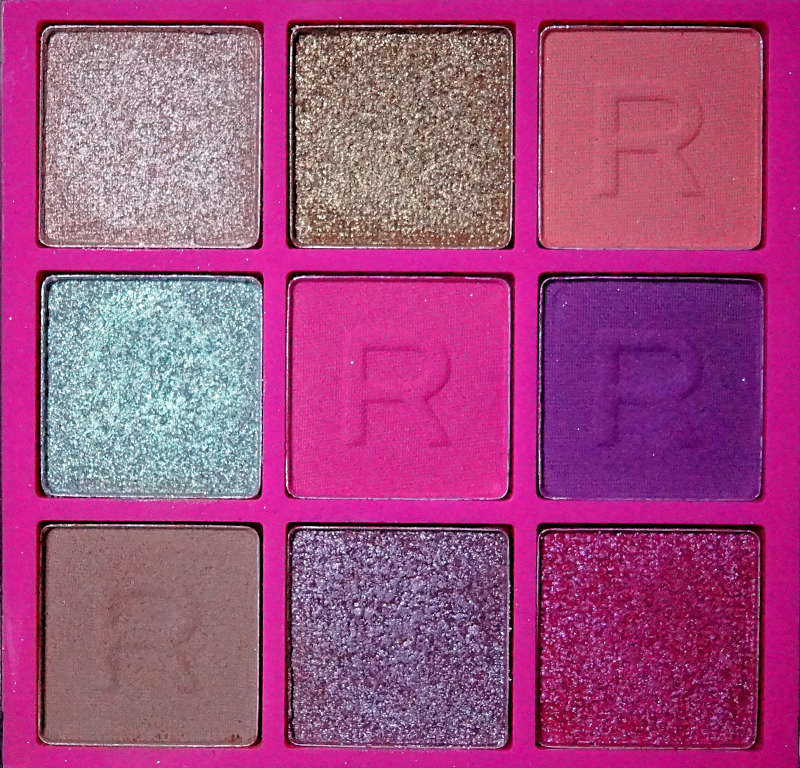 neon heat tropic pink by m.u.r.
this is a tiny palette i bought on a whim, it has all of the shades you have seen me ogle over so far. i think i bought this palette because it is small and has a snap closure, so it would be good for travel (the two hour drive to my grandparent's in law's home lol). i don't think i brought it but it would be good for travel theoretically.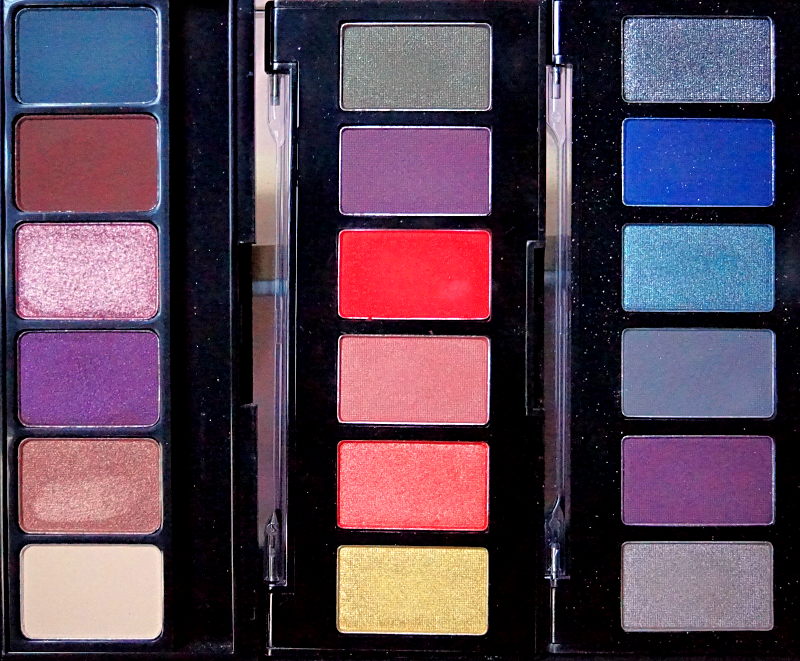 6 pan palettes by nyx
the palette on the left was a gift with purchase, and the other two are part of the regular line. i do not reach for these palettes a lot but if my collection were smaller i believe i would. they don't have as much pigment as i would like tho. i have used them several times, but i might declutter these so someone else could enjoy them more.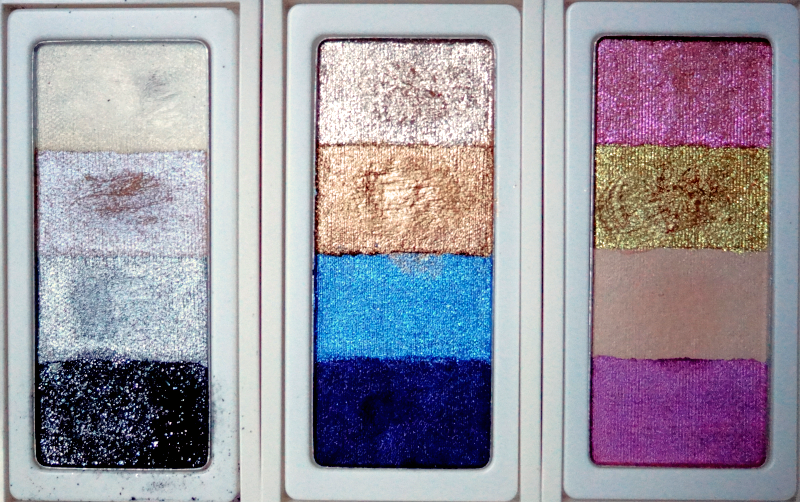 quads by undone beauty
i love these little guys so much!! all of undone beauty's eyeshadow quads can be mixed with water (i use setting spray) to make liners, or smudge-resistant eyeshadow and that's the main thing i use for these. these are twinkly, dazzling eyeshadows that make me feel like an actress from the 50s lol. they have so much dimension, glitter, and brilliance. these are still sold; the point of this page was not to give recommendations but i recommend these very very much.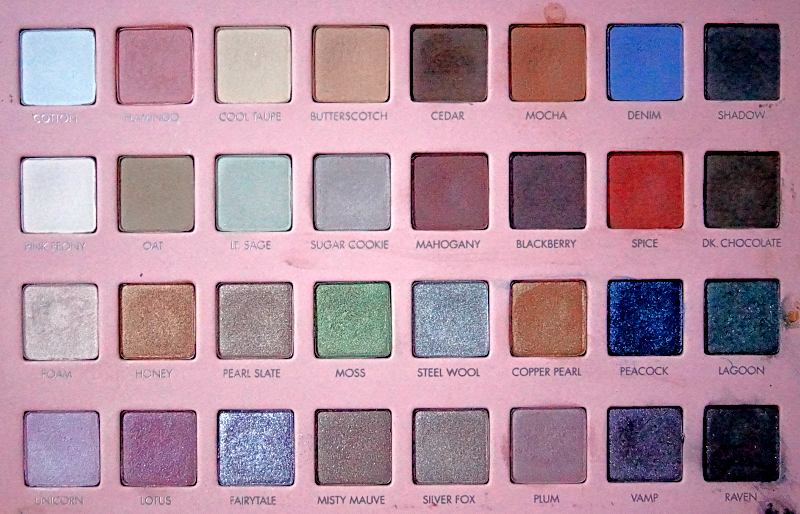 mega pro 3 by lorac
this was my first prestige brand palette. i love this palette, i cherish it like an old friend, and i still ocassionally use it. i have had it for about 5 years now. i use mocha a lot, it's the perfect matte bronze. honey and copper pearl are beautiful shimmers, peacock is an unbelieveably pigmented blue/green, vamp is a, well vampy purple great for a one-eyeshadow smokey purple look. denim, spice, and moss also are stand outs for me. modern lorac palettes don't have as much fallout as their old ones, and this is an older one. i also own the original pro palettes, one thruogh four. they're wonderful neutral palettes i would still own if i paired my collection down.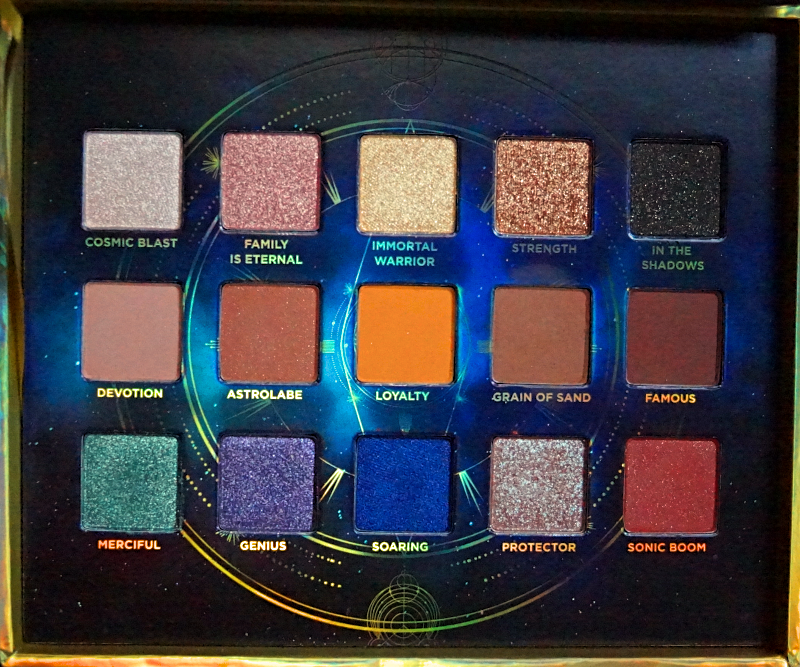 marvel eternals by urban decay
a lot of times, marvel will collab with ulta to make shitty palettes, but this time they collab'd with urban decay! this is an ok palette, i do like the color selection, and i did buy at as a fandom purchase. this is a fun palette to just have. i wish it were more spacey, and included more colors from the movie, like the glimmering hell-ish red of arishem, or the warm silver of thena's outfits. but instead they went with a mostly neutral palette with only a couple of brights, as a lot of collab palettes do. sigh.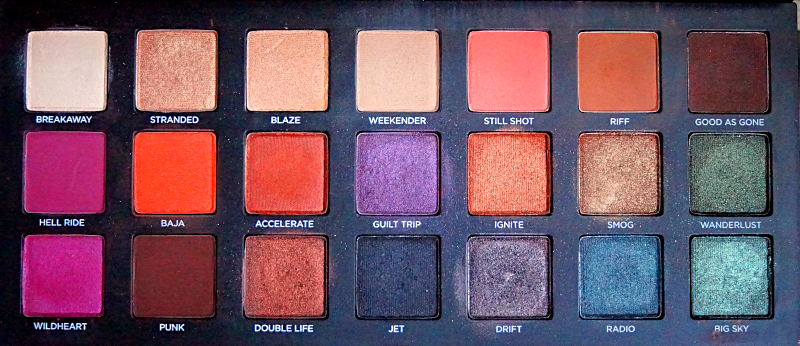 born to run by urban decay
at the makeup store i worked at, we had two testers for this at some point, and one was on the back counter all day, so of course we all stood around swatching it in down time. not a great use of our time but it made me want it. i use this palette a lot. a couple of my favorite eyeshadows are in here, which are riff, and drift. riff is a great regular brown eyeshadow lol. it's perfectly warm and light. drift is a really muted dark smokey purple. smog is a gleaming bronze, i like to put it sparsely over a black base. i might do a tutorial on that just to show what i mean.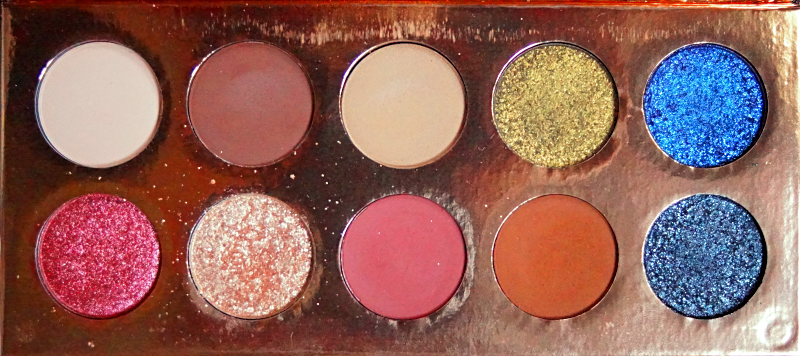 friendcation desi x katy by dose of colors
it took me forever to buy this palette but i finally did. i open this mainly for the shade on the second row, second column. it is an eyeshadow that sparkles from all angles. if you wear just a thin layer of it, you'll sparkle like the night sky, if you pack it on or layer it up for a glossy twinkly look. this is an amazing eyeshadow and it's trapped in this discontinued collab palette. i also like the dirty gold color, top row fourth shade. i don't use the other shades as much, it's really more suited for medium to dark skin tones in my opinion, and i'm very pale lmao.

riviera by anastasia of beverly hills
the entire top row of this palette is why i bought this paltte. i do sometimes use the mattes, but the shimmers are the star here. yacht is the most unique bronze i have ever used. it's a bit smokey, metallic, and bright all at the same time. seychelle is THE brightest turquoise in all of my collection, palermo is my most metallic pink. seaside is another insanely unique shade, i don't even know how to describe it. inheritance sparkles brighter than real gold. and mediterranean is this shifty blue color that's again, hard to explain. the mattes are a little too dusty for me, but they are very pigmented, and the white shade sails is the brightest white eyeshadow i own, easily.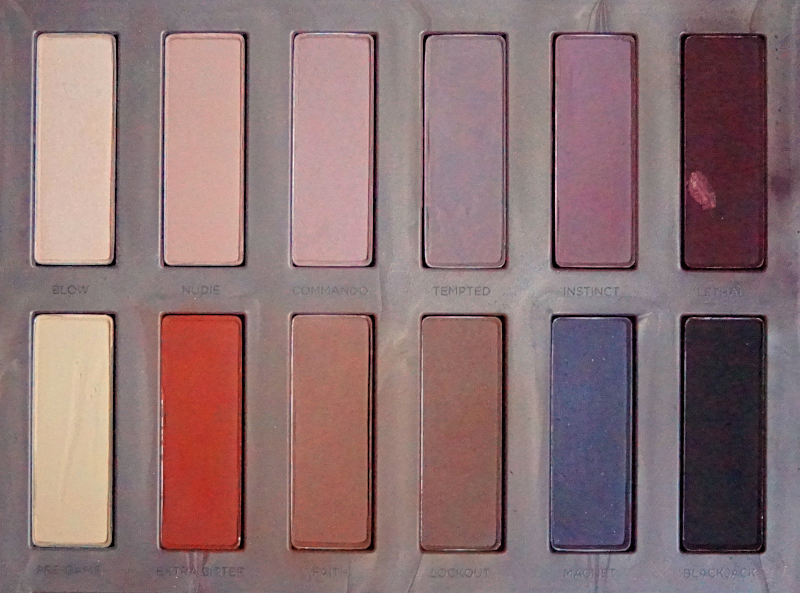 naked ultimate basics by urban decay
you would not believe how often i use this and you can hardly tell. i have dug my brush into those two warm browns so much and have barely made a dent. they are a bit hard, but not really, i have no idea how urban decay manufactured an infinite eyeshadow glitch.. i use mostly the last two shades of the top row, and the last four shades in the bottom row. i wish the grey were more pigmented, but i do have other pigmented greys in my collection now so no worries. the lightest shades are weirdly shimmery for some reason so i dont use them.